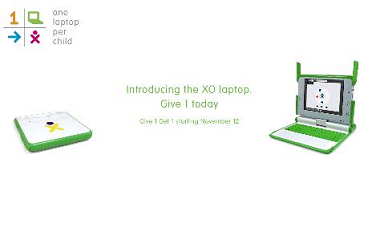 This Christmas (or any time after Nov. 12) you can purchase a neat laptop for your child or yourself and one will be sent to a child in a developing country at the same time! The OLPC project has been an interesting one. Initially their goal was to make a laptop for $100 so that every child in the world could have access to the same information and technology enabling them to learn. The price has gone up since that time to about $188 but it's still a great idea and the creativity in developing the laptop is quite inspiring as well.
I'm a geek, so just having one of these would be neat. They're also not bad for children as that is their intended audience.
Starting November 12, One Laptop Per Child will be offering a Give 1 Get 1 Program for a brief window of time in North America. For $399, you will be purchasing two XO laptops—one that will be sent to empower a child to learn in a developing nation, and one that will be sent to your child at home.
Sign up for the reminder email or donate today!