Every once in a while certain really nice and useful things come under attack from corporations that are not making any / enough money with it. Right now it's Internet Radio as a whole. I personally enjoy listening to Reggae and Dancehall music on BigUpRadio.com because there are no good local radio stations that play that music.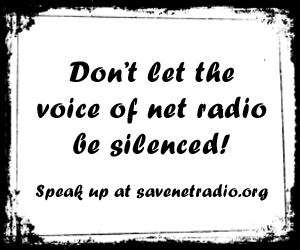 Also in general there are much lower operating costs for these radio stations so you can usually find something that really interests you and it's presented by people who are doing it because they are passionate about it. It's wonderful!
Something from the site:
On March 2, 2007 the Copyright Royalty Board (CRB), which oversees sound recording royalties paid by Internet radio services, increased Internet radio's royalty burden between 300 and 1200 percent and thereby jeopardized the industry's future.
So please take a minute if you care and send a short message to tell congress that this is ridiculous!